Pickering is a relay manufacturer that takes a hugely innovative approach to its products.
It has developed SoftCenter ® technology, which dispenses with the more usual coil supporting bobbin relay construction, releasing more room for the valuable operating coil winding. Pickering use a soft inner material to significantly reduce the stress on the glass to metal seal of the reed switch capsule. The mu-metal casing magnetic screening allows Pickering to manufacture some of the smallest reed relays currently available.
As a result Pickering's reed relays are able to achieve an extremely high coil resistance.
The Pickering range of reed relays are now available at Rapid. The products include Single-in-Line (SIL) reed relays for high voltage switching, low thermal EMF, direct drive from CMOS, RF switching and other specialist applications.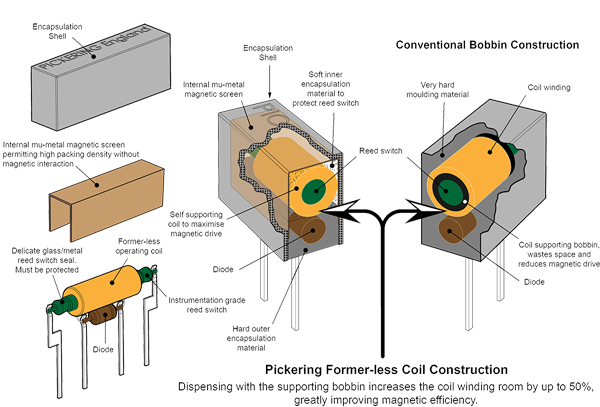 "I am delighted to welcome Pickering to the Rapid relay portfolio", said Richard Abbott, Product Manager of Electronic Components at Rapid. "Pickering is a company with a wealth of experience in the design and manufacture of quality engineered reed relays, consistently developing relay solutions for changing technologies, applications and PCB requirements."
www.rapidonline.com/pickering